Sergio, Mark Evanier and Thomas Yeates discuss the new Groo Meets Tarzan mini-series…
As any fool can plainly see, Sergio's blog has been inactive lately. His blog, however, has been…and will be more active in the future.
In the meantime, go visit the sparking new Groo website. And you can hear all about the new Groo Meets Tarzan mini-series now available at your favorite comic book shop and probably even at some you don't like very much.
And to answer the most-often-asked question we get here:  At the moment, Sergio has no convention appearances scheduled.  When he does, we promise to post about them here.
Sunday, February 8, Sergio will be appearing at the Pasadena Comic and Toy Show in Pasadena, California.  For info on this event, click here.
Yes, Sergio will be a Special Guest (as usual) at the Comic-Con International in San Diego, July 18-21.  He'll have his usual table in the hall where you can drop by, meet him, buy a sketch or just stare at his mustache.  He will be appearing on the Sergio & Mark Show Panel (with Mark Evanier, Stan Sakai and Tom Luth) on Thursday, July 18 at 2:30 PM in Room 8.  On Saturday of the con, he'll be appearing at 10 AM on the Joe Kubert Tribute Panel in Room 4 and then at 11:45 AM, it's the annual Quick Draw! competition in Room 6BCF where Sergio will be going a mano a mano, drawing against cartoonist Scott Shaw! and famous comic book artist Neal Adams!  Be there!
After several months of declining and canceling convention appearances, Sergio's back at it.  He'll be at the Big Wow! Comic Fest in San Jose, California on May 18 and 19!  Click here for more details!
Sergio has found it necessary to cancel his appearance at this year's WonderCon in Anaheim. At the moment, he plans to attend Comic-Con International in July but has no other conventions scheduled.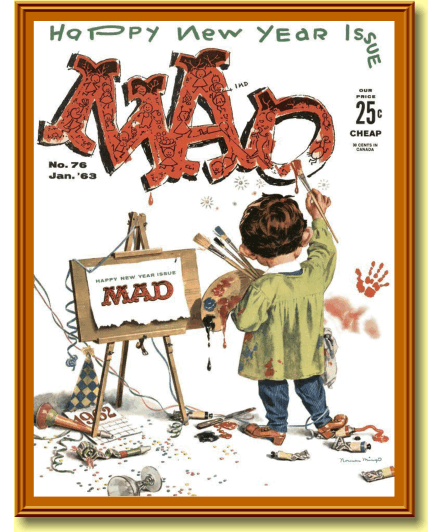 Fifty years ago this month (give or take a week or three), the 76th issue of MAD hit newsstands. It featured an article called "A MAD Look at the Space Program" by a new kid named Sergio Something. New artists were then rare in MAD. Publisher William M. Gaines loved his little "family" of artists and wanted them all in every issue if possible. Ergo, not a lot of room for new people.
But room was found earlier in '62 when a slender Hispanic gent walked into the MAD offices. In a tale told more often than the origin of Spider-Man, Sergio Aragonés wasn't making it in New York trying to sell gag cartoons to the lowest-paying magazines so he figured that if you're going to get rejected, you might as well get rejected by the best. He took his portfolio (or as he would still call it, his port-a-folio) up to the MAD office and since his English was not grand, he asked to speak to Antonio Prohias, the Cuban-born cartoonist responsible for the magazine's popular "Spy Vs. Spy" feature.
Sergio's luck was both good and bad. The good part: Prohias, who wasn't usually around the office, happened to be there that day. The bad part: His English was worse than Sergio's. But thrilled to be with another cartoonist from Down South, he cheerily did what he could to introduce the young man around, proclaiming him to be "Mi Hermano" [My Brother]. This of course led to the brief misunderstanding that Sergio was Antonio's actual brother but that got straightened out and the editors took a peek at what he had brought.
They were all one and two-panel cartoons. MAD didn't buy one and two-panel cartoons but the editors noted that there were a lot of very funny ones about astronauts. On a whim and a hunch, they bought a number of them and pasted them up into an article…and suddenly, Sergio was one of The Usual Gang of Idiots and an instant member of Gaines's "family."
Sergio had hundreds of other cartoons he would have liked to sell them, as well as the capacity to generate a dozen more faster than you could say "Alfred E. Neuman." Alas, MAD only had so much space for his work. That was when he decided to create more space.
MAD then featured little word jokes in its margins called "Marginal Thinking." They were popular but a pain for the editors to write each month. Sergio, with his limited command of English, didn't understand them at all and wondered why there couldn't be tiny cartoons (i.e., his) in those spots. He pasted tiny examples into a copy of MAD, showed it to the editors…and poof! A new place for him to draw had been created. Apart from one issue he missed due to the flu and a postal screw-up, he has been in every issue since. He generally does 8-10 per issue and there have been 442 issues of MAD since his "Drawn-Out Dramas" first began appearing, also in #76. You do the math. He also began submitting and selling ideas for funny covers and one of them wound up on MAD #77.
'Tis an amazing body of work, it is. It's stunning to realize that it's almost half over.
After having to cancel several recent convention appearances while he recuperated from back problems, Sergio will be at the Comic-Con International in San Diego, probably for the entire time. It starts with Preview Night, Wednesday, July 11 and runs until Sunday, July 15. Sergio will be at his table, which is as usual I-7, and he will be selling Sergio books and Sergio art and Sergio smiles.
When he isn't there, he will be appearing on a number of panels…
Thursday, July 12 – 2:00 PM – 3:00 PM – The Sergio and Mark Show
An annual Comic-Con tradition! The folks who give you Groo the Wanderer on occasion will tell what's up with Groo and their other projects and will entertain you with glorious anecdotes and silly stories. Those folks are celebrated cartoonist Sergio Aragonés, his co-conspirator Mark Evanier, Usagi Yojimbo creator Stan Sakai, and the hardest-working man in comics, Tom Luth. Room 8

Saturday, July 14 – 11:45 AM – 1:00 PM – Quick Draw!
It's the annual battle-to-the-death with Sharpies at 20 paces. Three of the fastest cartoonists in the world duel with wit and markers, drawing like crazy to create cartoons based on your suggestions and the evil schemes of the Quick Draw! Quizmaster, Mark Evanier! Competing as usual are Sergio Aragonés (MAD magazine, Groo the Wanderer) and Scott Shaw! (The Simpsons), and they're joined by guest competitor Keith Knight (The K Chronicles), and maybe a few surprises! This is one of the most popular events at Comic-Con, so get there early. Room 6BCF

Also Saturday, July 14 – 2:00 PM – 3:00 PM – Mad About MAD
Often imitated but never duplicated, MAD is the country's best-selling humor magazine! Join MAD magazine editor John Ficarra, art director Sam Viviano, artists Sergio Aragonés and Tom Richmond, and Spy vs. Spy artist Peter Kuper for a wise-cracking Q&A that's bound to be, well, MAD. Room 9
If you see Sergio there, say Buenos Dias.
Coming soon to a bookshelf near you (assuming you can spring for the hundred bucks) is this nifty book.  We'll let the press release tell you most of what you need to know…
IDW proudly presents SERGIO ARAGONÉS' GROO THE WANDERER: ARTIST'S EDITION, collecting a classic four-part story in its entirety by the Mad, Manic, and Marvellous SERGIO ARAGONÉS! Sergio began his career at Mad Magazine in the early 1960s and has been drawing comics ever since.

In 1982 Sergio, with his frequent collaborator Mark Evanier, launched Groo the Wanderer. Groo has since become one of the most memorable and loveable characters of the last 30 years. This Artist's Edition measures 12 x 17 inches and features four oversized issues, including extras. Added bonus: the very first Groo story by Sergio (in redrawn form) will also be in this book. This Artist's Edition is shipped in a custom cardboard box for maximum protection. Available in July.

Brought to you by the same team responsible for the Eisner Award-winning Dave Stevens' The Rocketeer: The Artist's Edition, as well as Wally Wood's EC Stories: Artist's Edition.

WHAT IS AN ARTIST'S EDITION?

AN ARTIST'S EDITION PRESENTS COMPLETE STORIES WITH EACH PAGE SCANNED FROM THE ACTUAL ORIGINAL ART.

While appearing to be in black and white, each page was scanned in color to mimic as closely as possible the experience of viewing the actual original art—for instance, corrections, blue pencils, paste-overs, all the little nuances that make original art unique. Each page is printed the same size as drawn, and the paper selected is as close as possible to the original art board.
And we'll just add that the volume will reprint the four-part Groo tale, "The Wager of the Gods," which ran in Epic Groo #96-99, plus there will be covers, odd pages from other stories, sketches, a foreword by Evanier and other goodies.  Start saving your kopins!
The cartooning of Sergio is represented on the new MAD app for the iPad. It features classic material from the magazine and also gives you the opportunity to download recent issues for a modest fee and read them on your iPad. Read all about it here.